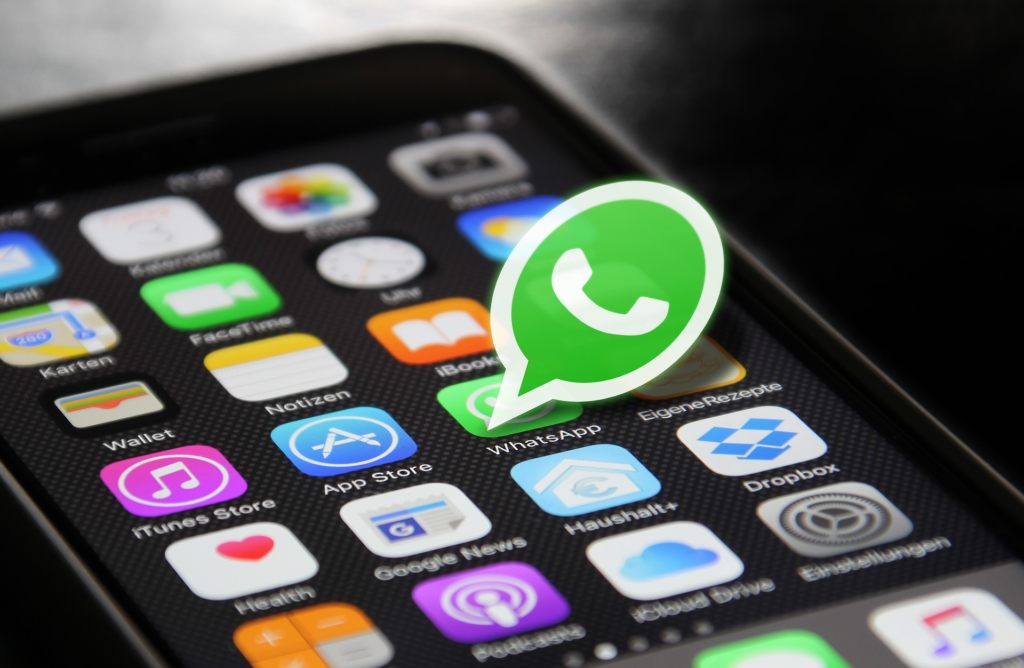 WhatsApp, who doesn't know it? With a user number of 12 million, in the Netherlands alone, the potential is enormous! We eagerly use it every day; not only because you can easily reach people directly via either a message or a call, but also because these outgoing / incoming messages and calls are free. Every day we receive an average of about 65 messages and we send 30 messages. So opportunities are there for the taking!
Since last year, WhatsApp has expanded its capabilities to a new platform that mainly entrepreneurs can benefit from. The so-called WhatsApp Business app enables the entrepreneur to advertise on WhatsApp in addition to the usual socials (Facebook, Instagram, etc.). A better combination is almost impossible, right?
Because WhatsApp is now used by almost 9 out of 10 Dutch people, it is smart and effective to respond to this with the right marketing strategy. The questions: "What is WhatsApp marketing?" and "How can you apply WhatsApp marketing in your business?" will be central here.
What is WhatsApp Marketing?
To immediately clarify: WhatsApp marketing is a term that indicates that the popular WhatsApp messaging system is used to run marketing and publicity campaigns.
What you might think is that WhatsApp marketing has the same principle as Facebook and Instagram. However, this is not the case. Where the ads on these channels refer people to an opt-in or sales page, a WhatsApp ad leads you to a WhatsApp conversation. Here the potential customer or you yourself as an entrepreneur has the opportunity to send personal messages and questions.
As a result, your leads and customers no longer have the feeling of being a number, but rather feel like a person of value. They are seen and heard more by you. This boosts trust and appreciation in your company.
Why is it wise to use WhatsApp Marketing for your company?
What are the benefits of WhatsApp Marketing? Simply more connection and personal contact with your leads as well as your customers! And yes, that contact in turn creates a bond. An easy way of binding fans to your company. Isn't that what every online entrepreneur wants most? Most likely your answer will be a big 'Yes'. After all, your product or the service you offer is there to help more people.
Scheduling an appointment or calling a company directly isn't something people will do quickly. The threshold is simply too high for that. WhatsApp makes the difference. This medium is more informal in nature, your customers and leads can decide for themselves where and when they choose to send a message and making contact can be done fairly anonymously. Conclusion: the pressure is off and that makes WhatsApp so nice to use.
WhatsApp is also useful to use as a marketing communication tool in order to dispel the doubts of potential customers and to answer possible questions from them. You as an entrepreneur can convince them 100% that the product or service you have to offer will really help them, in such a way that they can no longer avoid it and will actually buy your product or service. You can then provide them with personal tips and / or advice.
TIP:
Also combine your Facebook / Instagram campaign with WhatsApp Marketing. Do this by, for example, contacting your company via WhatsApp in the ad text of Facebook / Instagram by means of a call. Think of free advice, an introductory meeting or, for example, a free scan of certain (marketing) activities of the company in question. And you generate awareness on the socials and you can build a lasting, personal relationship with your potential customers. A win-win situation, right?
Not yet convinced of the power of WhatsApp Marketing? Here are a few more reasons why you should use WhatsApp marketing:
It is free!
The tool makes it possible to offer a faster and personalized customer service.
It is a powerful tool to gauge your customers in real time; do they have questions or doubts about the product or service?
It allows you to send brochures, videos and other marketing communications directly to your customers!
It is ideal to remind your customers of special events, promotions, the new blog / newsletter or free services.
WhatsApp Marketing; how do I use this?
Now that you understand what it is, it becomes almost clear that this new marketing channel is likely to provide value for your business as well. WhatsApp Marketing can be a fact for you in ten small, simple steps. But before we go any further, it is important to know that you cannot use WhatsApp for your company, aka WhatsApp business, on the same number as your personal WhatsApp. We will first guide you through the WhatsApp Business app and then we will switch to the Facebook Business Manager tool.
The WhatsApp Business app
#1. Download the app
Download the WhatsApp business app from the Play Store or App Store. You do this here.
#2. To link
Link your WhatsApp business app to your business phone number. You can possibly link this account to your Facebook advertising account, so that you can have your advertisements sent to personal chat messages.
#3. Verify number
Verify the number you are going to use via the received text message.
#4. Create a company profile
WhatsApp business allows you to make some settings that make your profile more professional and easier:
Display the opening hours of your business: the potential customer will automatically receive a message if he asks you something after closing time or during the weekend. You can set up and set this message yourself. You can also set up a greeting to introduce your customers to your business.
Sharing information such as the URL of your website, your address, a description of your company and e-mail address.
Quick messages: With quick messages you can save and reuse frequently sent messages. This way you can answer frequently asked questions in an instant. This saves you time and energy if you know that this is being asked more often.
Labels: the labels within the tool have the function of organizing your contacts or chats so that you can easily find them or find them again.
Create a campaign on your Facebook Ads Manager
Now that you have created your own WhatsApp Business account, it is important to set up a campaign on Facebook in order to actually be able to use your new marketing channel.
#5. Create campaign in Ads Manager
Therefore go to your business manager and create a campaign. Set the campaign as a 'traffic campaign'; after all, you want to send traffic to your business business account on WhatsApp.
It is important that you set that you want to stimulate traffic on WhatsApp instead of the website, Messenger or another app. You set this on your ad set. When someone clicks on your ad, WhatsApp will open a conversation with your company. To set this up, the WhatsApp business account must first be linked to your business Facebook page. This linking speaks for itself once you have pressed the 'Whatsapp' option.
#6. Link your WhatsApp Business account to your advertising account
Now it is important to verify your link between your WhatsApp business account and your advertising account. Enter your business WhatsApp number and then receive a verification code via your phone. You then have to fill this in to be able to activate and put everything into operation.
#7. Set target audience
Now set your target audience by selecting demographics, interests, behavior or website traffic. Indicate where on social media you want to show your ad; are you going for automatic placements are you going to set it up manually?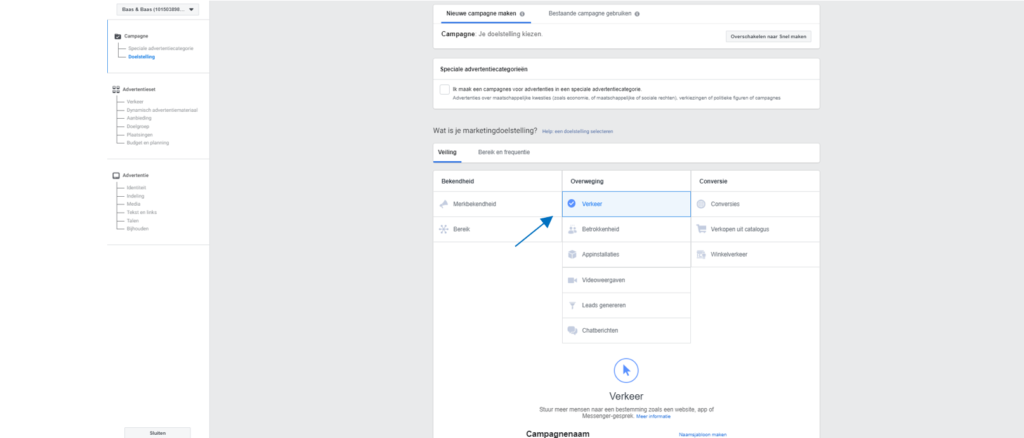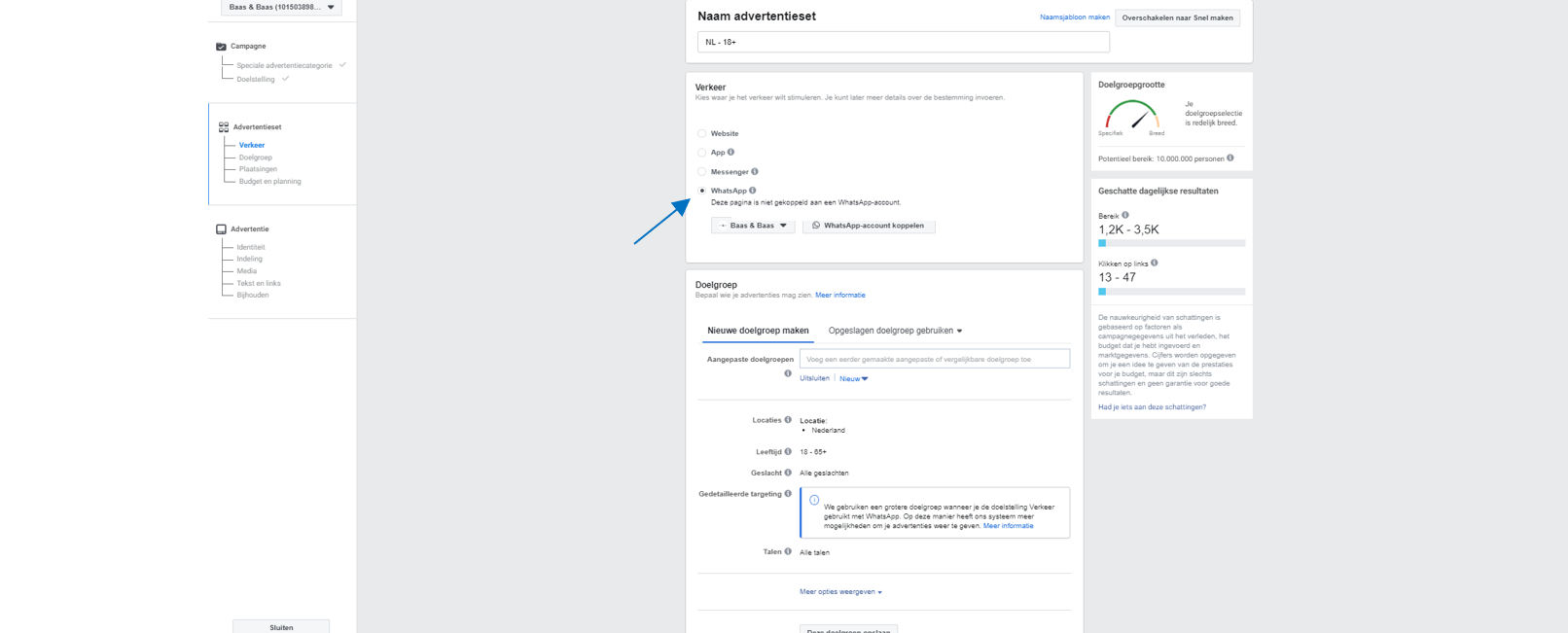 #8. Create your WhatsApp ad
What will your target audience actually see when they scroll on social media? Above all, think carefully about your ad text; it has to stand out extremely to attract the attention of the target group. Discuss the pain points of your product or service in order to keep the text as recognizable as possible.
The call-to-action button for WhatsApp Marketing advertisements is different from normal advertisements. Instead of the button 'more information' this will change to 'Send chat message'.
#9. Publish & Optimize
If you have set everything; from your WhatsApp business account to your WhatsApp Marketing campaign on Facebook, you are ready to throw your campaign online. Keep an eye on the campaign in the coming days and try to optimize where possible.
Conclusion: Using WhatsApp as a marketing tool?
As you have read, WhatsApp Marketing has its advantages. Potential customers can contact you in an accessible way, which you can then respond to; eliminate any questions or doubts they have about your product or service.
Through the marketing channel you build a strong and personal bond. This gives your potential customers the feeling that they are not just a number for you. They will certainly appreciate this, which has positive consequences for the confidence in your company. Boost this appreciation by only giving them tips and advice when purchasing!
Using WhatsApp Marketing, you can better distinguish yourself from your competition as an entrepreneur. Favorable!! Are you going to benefit from the medium soon?
Want to know more about Facebook Marketing and other online marketing practices? Then take a look at our blog!