VACANCY: SOCIAL ADVERTISING SPECIALIST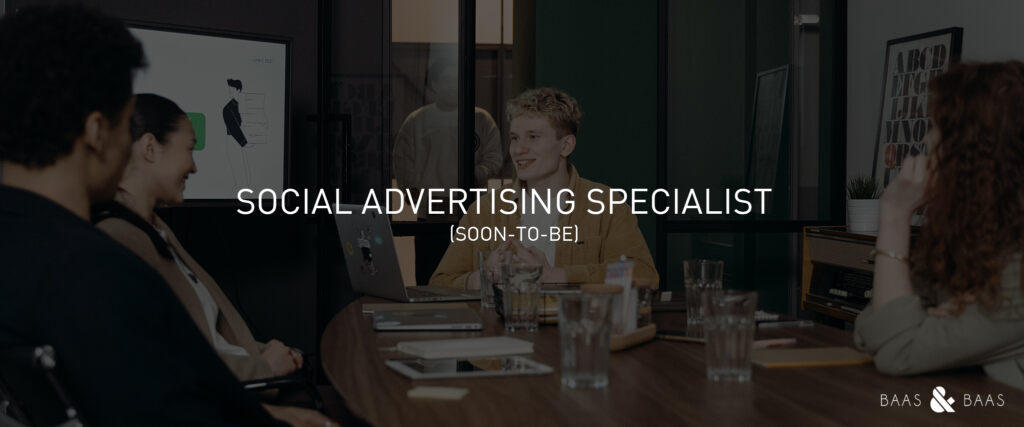 Hey social advertising specialist!
Are you completely at home in the world of social media and are you aware of the latest trends? Do you also have knowledge in the field of social advertising (including Facebook)? Then we are looking for you!

As a social advertising specialist at Baas & Baas you will unleash your creativity in online campaigns. In addition to setting up the campaigns, you are involved in optimizing and you are always looking for the best result. 
With your knowledge in the field, you know better than anyone how to achieve the client's objectives with social advertising. You translate the customer's needs into a clear, feasible strategy and advise the customer on targeting and KPIs.
We don't care who you are, where you come from or what study you have done, you know your qualities!
Who are you
You are aware of the latter trends and developments around online marketing, digitization, people & society

You have a high problem solving ability, but also dares to ask for help

You are independent, creative & flexible

You are able to think along with customers management level

You're a champion in online marketing tools such as Google Ads, Analytics, Tag Manager, Hotjar, FB Business Manager, LinkedIn Campaign Manager, etc.

The socials no longer hold any secrets for you

You like to direct, motivate and spar with our bosses and customers

You like to build great results together with our team

Likes to work in teamwork but is also possible individually find your way

An advantage if you know your way around tools such as WordPress & Mailchimp
We also find it important that we share the same mission and vision, that we enjoy working together and, above all, learn a lot from each other.
What do we offer

A diverse, close-knit team

A broad (and therefore varied) range of tasks

Learning and growth opportunities

Drinks, team outings, coffee, office dog and more

And finally, of course, a competitive salary
Do you like it?
We would like to get to know you! Send your motivation and CV before May 15 to info@baasenbaas.nl and who knows, soon you will be our one and only Social Advertising Boss!
The application procedure is as follows: 
Step 1: in response to your email you will be invited for an interview
Step 2: then we will give you a short assignment to see how you work
Step 3: after completing the assignment, we will schedule a follow-up meeting with you….