Do you already have that new snapchat update?
The last update was implemented at the beginning of February 2018. This time, however, Snapchat has changed the entire app. Many users are therefore not happy, because the entire interface has been reversed. This video explains what's new:

Snapchat will update the app again after a stream of complaints
Read the official snapchat response here. Nearly 1.3 million people have now signed the petition to revert the app to the previous version. Snapchat tried to improve user-friendliness with the new version, but the opposite turned out to be true.
Update February 12, 2018 - snapchat map
Since Monday morning February 12, it is also possible to view the snapchat folder on your browser: Snapchat Map
Other updates
Snapchat regularly throws out major updates for iOS and Android. The best thing about the new app is that many people find filters and effects that you can add to a selfie. Also called "Lenses". However, Snapchat continues to develop with new features.
In this article, we will keep you informed of the latest snapchat updates. In this article you will find an explanation about:
The last update of Snapchat in 2017 (Snap Map, custom stories etc.)
How the snapchat lenses / filters work
What are Snapchat trophies?
How does Snapchat make money?
All old updates from Snapchat
Snap Map Update June 21, 2017 - See what your friends are doing on a map.
Do you want to stay informed of all snapchat updates?
Enter your e-mail here. [Mc4wp_form id = "2409 ″]
Snapchat updates in 2017
June 21, 2017: Snap Map (map)
Sales of Snapchat Camera Glasses started in the Netherlands (1 June 2017)
Custom stories
A complete redesign of the Bitmoji integration
A search bar that is always available
Global story with snapchats from all over the world
New: advertising on Snapchat
June 21, 2017: Snapchat introduces Snap Map
With Snap Map, you can see snaps on location from different events such as sporting events, party, breaking news and even more from all over the world?
When a friend and you follow each other, you can share your location with each other. That way you can see what your friend is doing and what is happening around him / her.
So you can easily meet with each other?
Only the people you choose can see your location.
So if you are friends with your BOSS, you can disable your location;) Snaps you add to "our story" will still be shown in the map, so be careful!
How do I open Snap Map?
Go to your Camera screen.
Do your fingers hold the following way? and zoom out with your fingers (as with a photo).
Snap Map gif from Snapchat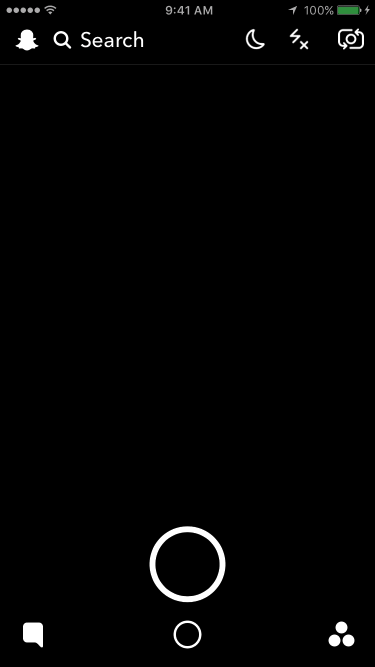 Snapchat starts selling camera glasses in the Netherlands
The "spectacles" are for sale in Europe from June 1, 2017. In the Netherlands glasses cost 150 euros, then you do have plastic glasses. You can get them through the website of Spectacles to order. There will be an additional 10 euros shipping costs. With the glasses you can film for no less than 30 seconds and you can share with your contacts directly via the Snapchat app.
Custom stories on Snapchat
Bitmoji in snapchat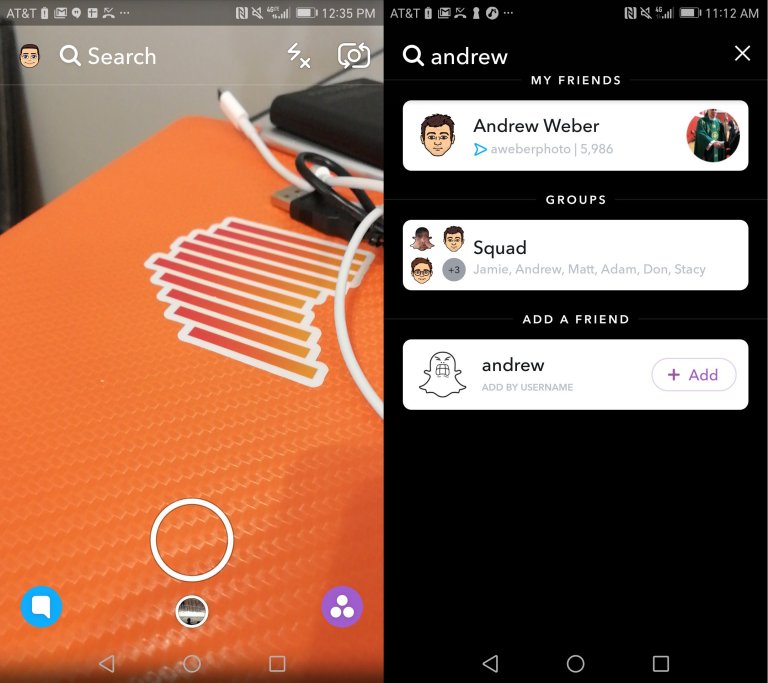 Your Bitmoji is now all over Snapchat. It's not just in chat, but also in search results. If you are not using Bitmoji, your Bitmoji will look like a ghost. So if I were you I would create a Bitmoji even if you don't use the Bitmoji app outside of Snapchat.
Snapchat search bar available everywhere
The Snapchat search bar is available on the camera screen, chat screen and story screen. This makes it very easy to quickly find friends, groups, recent friends and contacts.
By the way, creating groups in snapchat has also been a new feature for a while!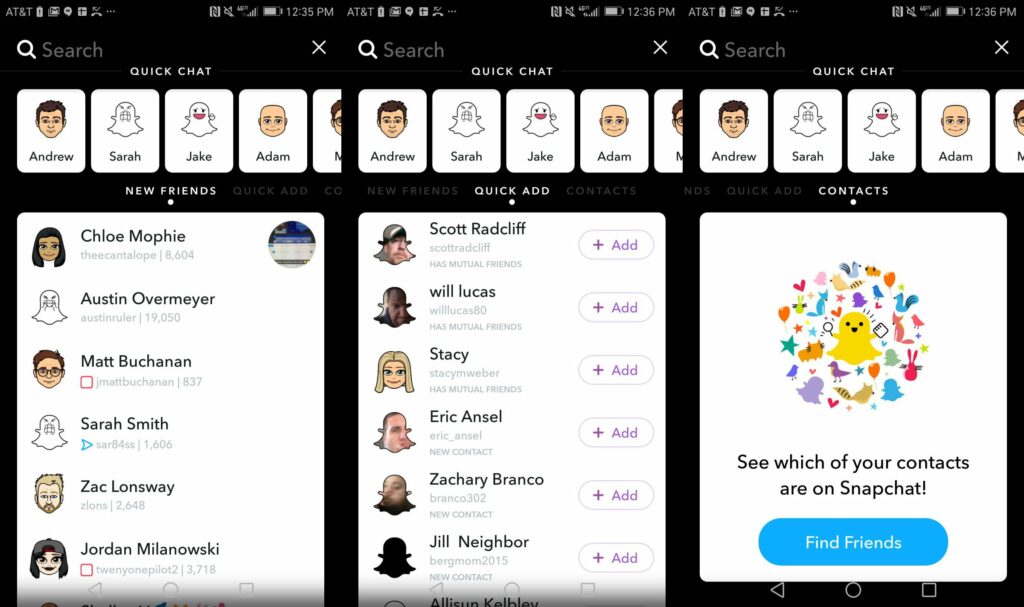 Global stories
You can now also participate in global Snapchat stories without actually being at the location where the story takes place. This means that you no longer have the sideline need to sit. So you can now always participate and respond to a large worldwide event, without actually being there.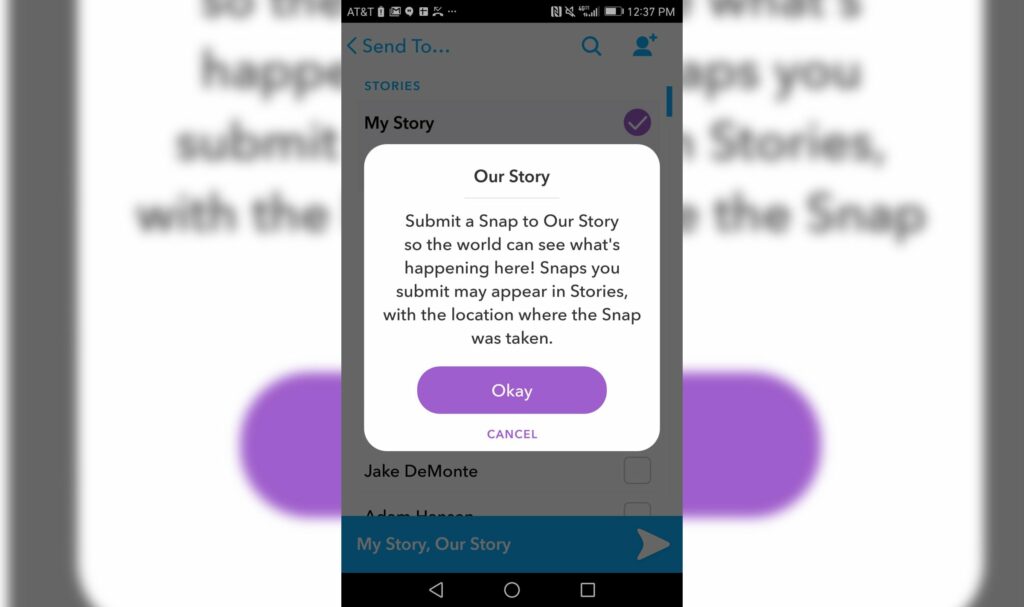 Pictures snapchat 2017: https://www.gottabemobile.com/2017-snapchat-update-whats-new
Update October 2016: Snapchat story playlist
Snapchat has a new update in October 2016. This update lets you create a Story playlist. Read here how to create a story playlist.
For a while now you no longer have to click on your friends one by one to view their story. The story now has an autoplay so that the stories follow each other. When you have finished viewing a story, it automatically moves to the next. The problem is that you don't want to view all stories.
Some friends just have better stories than others, don't you want to unfollow them? With this update you can choose stories that you want to view and create a playlist. This way you can only watch the stories of your best friends. Here's how to make a snapchat story just for your best friends:
First of all, you must of course update your snapchat app. Of course, you should always do this if you want to keep taking the updates :)
Open the snapchat app and go to the stories / discover section.
Click on story thumbnail in the left part of your friend's name; then you can add his story to your playlist.
Then click again on the play button at the bottom to view the stories.
That's the way to keep only your best friends following their stories on Snapchat!
How do the snapchat filters / lenses work?
To activate these crazy effects you have to aim the front camera at yourself. Then tap your face a little longer than usual to activate the effects. You will then see a number of filters at the bottom. Snapchat then explains how it works. The result is as follows:
They are quite special effects. You have the option to let a rainbow run out of your mouth, turn yourself into a monster or become a granny / grandpa.
Snapchat is going to make money
Finally there is the revenue model of Snapchat. In principle, the intention with Snapchat is that you only view a photo for once, but recently you can now also pay $ 0.99 in America to watch the photo or video again. Snapchat has never added a paid feature to its app before. It is not yet known when the paid update will come to Europe or the Netherlands.
* photos of dutchcowboys
Earning trophies
Snapchat's most famous addition is that you can win trophies with Snapchat. You have a prize cabinet in your own account, as it were. Click on the ghost in your photo screen and your prize cabinet will appear. How can you win these trophies? Just send a photo with a filter or a video.
Trophies snapchat
Finger: Snap controlled with a filter
Videotape emoji: video snap sent
Rocket: Snapchat score is 100,000
✌Peace: you have sent a Snap with 2 filters. (first put your first filter on it then keep your thumb on the screen and swipe aside again for the next filter!)
Flashlight: 10 snaps sent with your front face camera.
✨ Stars: Snapchat score is 1000
Lollipop: 5 different colors used in 1 snap.
Monkey: a video sent without sound.
Asterisk: Snapchat score is between 50,000 and 100,000.
Star: Snapchat score is between 10,000 and 50,000.
Old school camera: 50 video snaps sent.
Microscope: Sent 10 snaps in which you zoomed in.
Omelette: a snap sent between 4 and 5 am.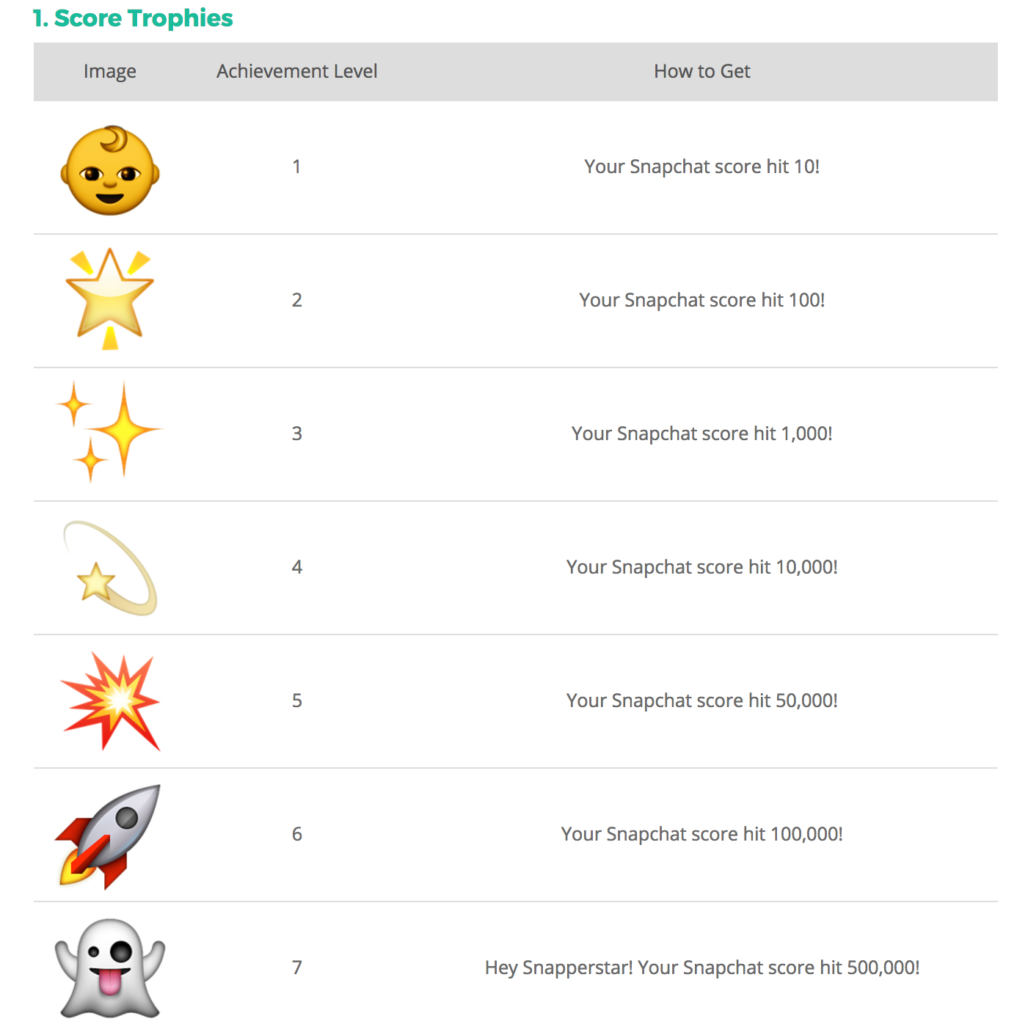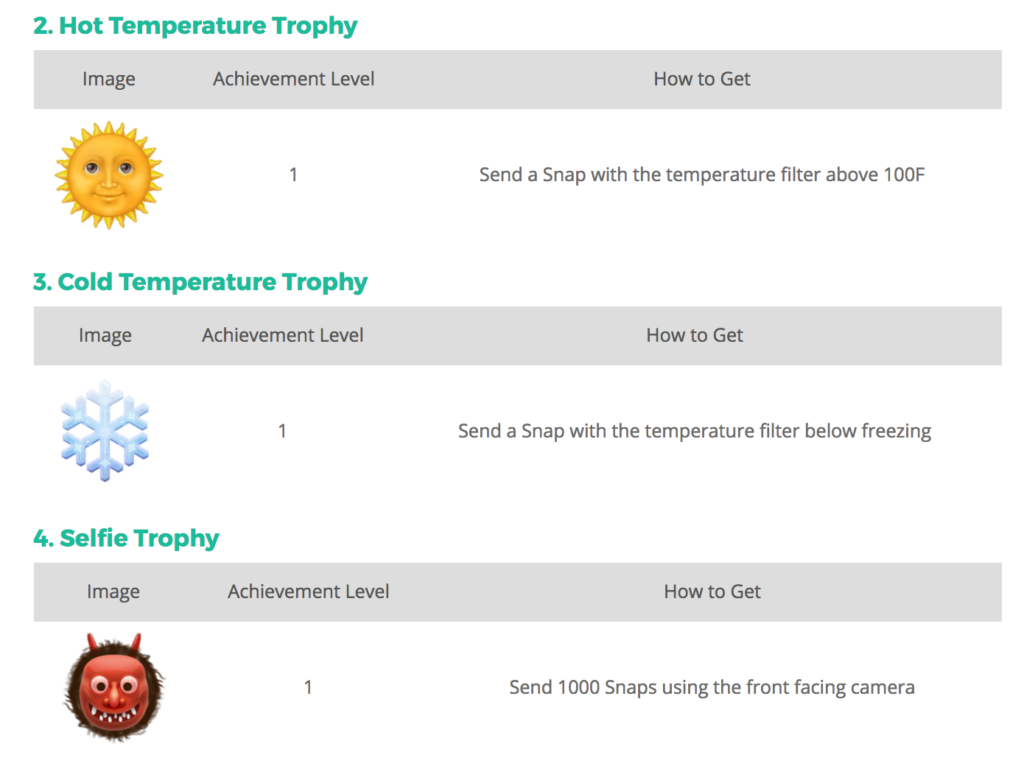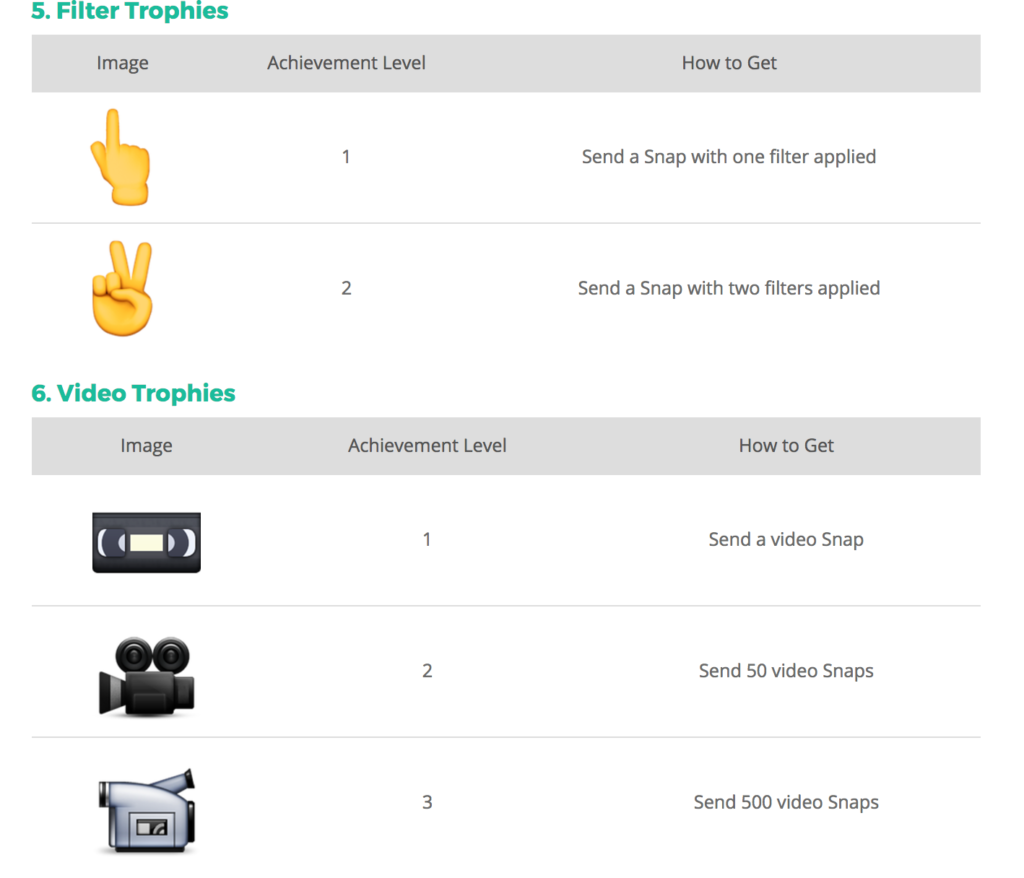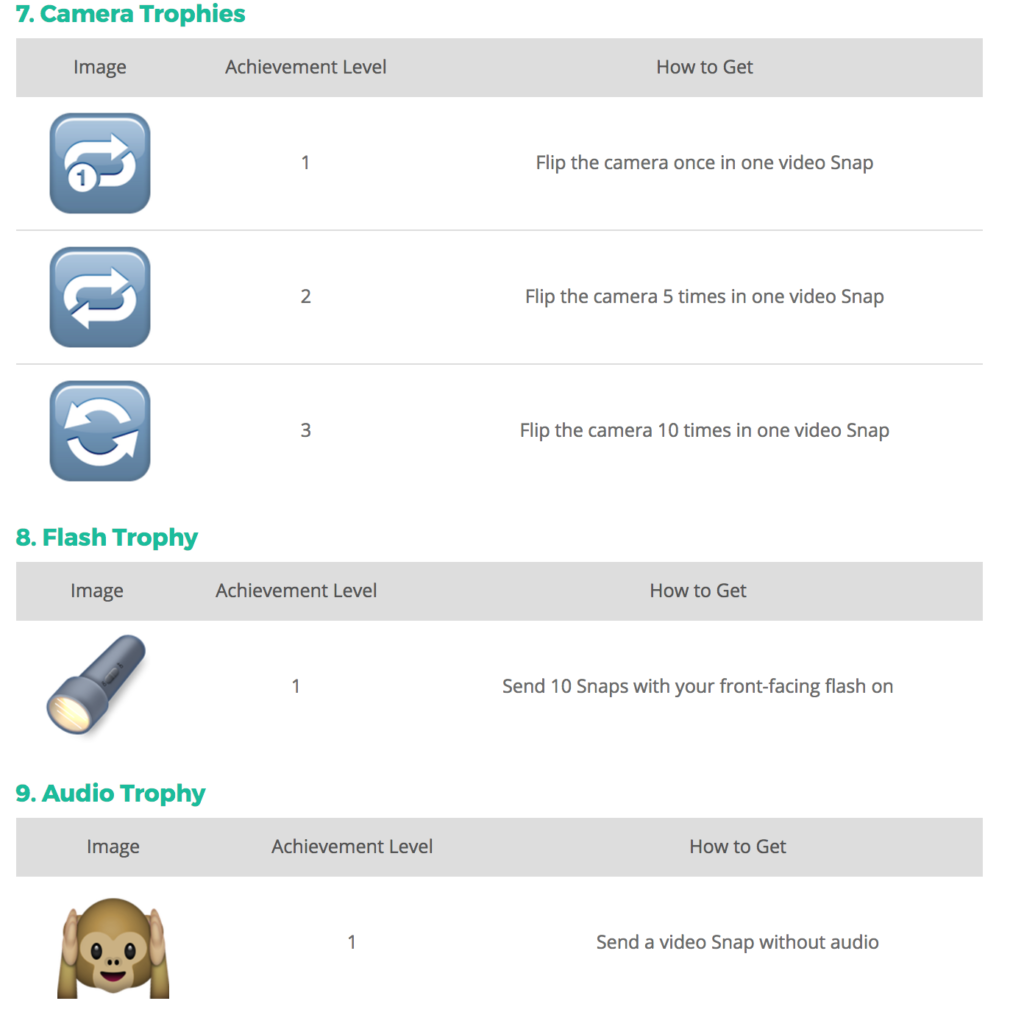 How many trophies do you already have on Snapchat?
Update December 8, 2015:
Snapchat has added yet another update. It is now also possible to apply the filters with the normal camera. In other words, you no longer have to use the selfie camera to apply these crazy filters. Now it is even easier to give other people nice filters;)
The update is available for iOS and Android. Snapchat now allows you to use the filters with the selfie camera and with your phone's normal camera.
The new update is smart enough to scale the filter with the size of your face. Sometimes, however, the filter also recognizes certain objects as faces so it is still useful to press on the face. Thus, you give snapchat an indication of where the filter should be applied.
Do you want to stay informed of all snapchat updates?
Enter your e-mail here.