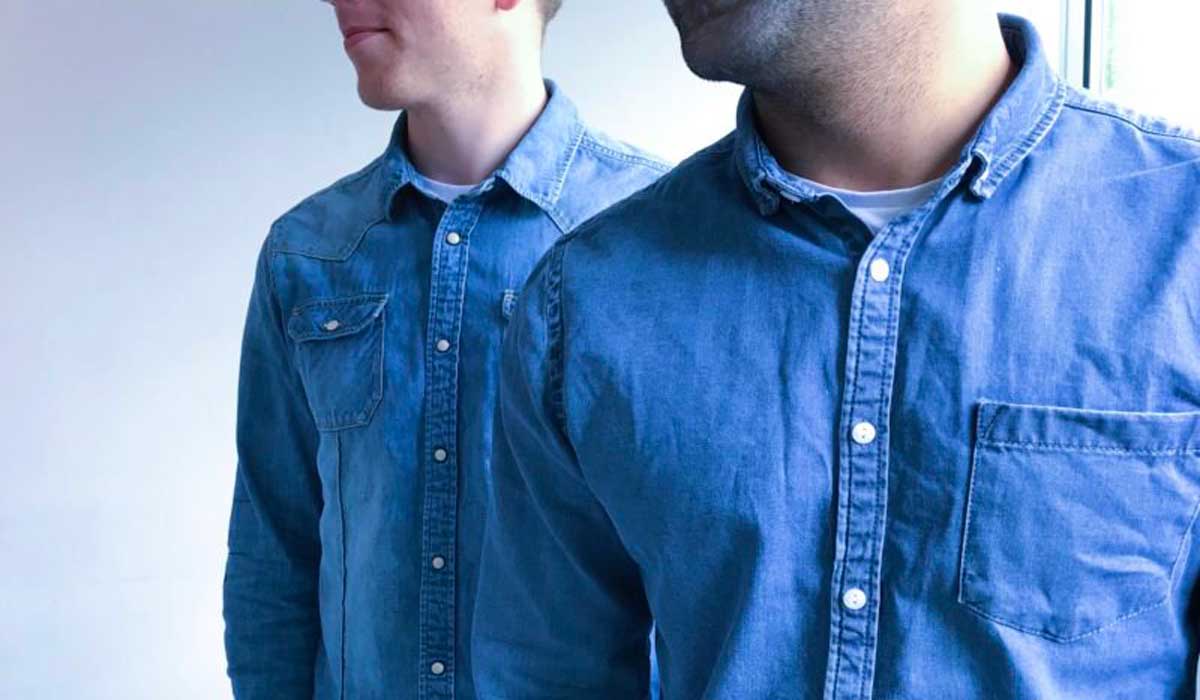 Do you recognize the following problem? You have thought very carefully about the target group determination of your Facebook ads, but the number of visitors to your website is increasing at least .. And you have put so much time into it. Don't panic, in this article we explain how you can get more success out of your Facebook ads with the help of similar target groups (look-a-like audiences).
What is a similar target audience?
When you create an ad, you can choose to target it to people in a similar audience. 'Comparable target group' is the Dutch translation of the Facebook tool 'look-a-like audience '. These are target groups that you can have automatically created by Facebook. A similar audience offers you a way to reach new people who are most likely interested in your company. Facebook is looking for 'new' people for your comparable target group who are very similar to your current customers or visitors who have previously visited your website.
How does it work?
First of all, it is important that you can extract useful data from your pixel data. Earlier in our blog about Facebook retargeting we explained what a Facebook Pixel is and how it works. When you create a similar audience, you choose a source audience. You create this source target group based on your pixel data and / or mobile app data. Facebook identifies the similarities with the people in this target audience. These similarities can be, for example, demographics or interests. Then Facebook looks for people who look like (or are similar) to people from your source target audience.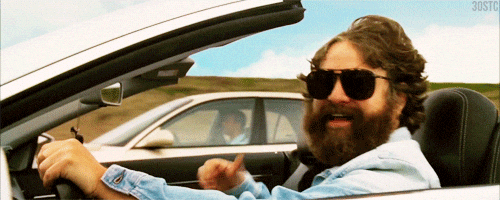 When creating a source target group, you can determine the size of the comparable target group. Facebook recommends using a source audience of 1,000 to 50,000 people. For the reason that smaller target groups correspond better with your source target group, while larger target groups actually reduce the similarities between the comparable target group and source target group. The quality of the source is also important. For example, if a source audience consists of your best customers instead of your entire customer base, this can lead to better results.
Roadmap
To create a similar audience on Facebook:
Step 1: Go to Target audiences
Step 2: Click the Create Audience drop-down menu and choose Similar Audience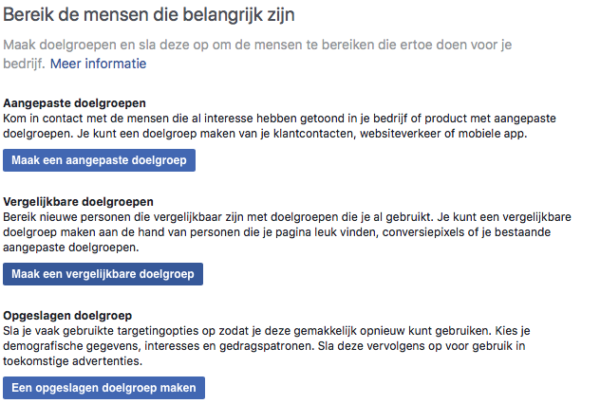 Step 3: Select your source
Step 4: Choose the country (s) where you want to search for a similar group of people
Step 5: Select the desired audience size with the slider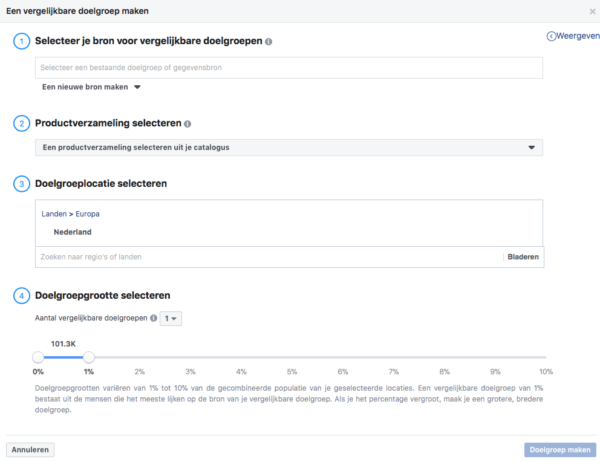 Step 6: Click Create Audience
Have you completed all the steps? Then you can start creating successful ads!
Nice to know
People in your source audience will be excluded from your peer audience unless you have a

pixel

as a source target.

A Facebook Similar Audience can only be created by the admin of the page or pixel from which the Similar Audience is created.

If you're creating a similar audience from a custom audience, you must be the creator of that custom audience.

If you're creating a similar audience based on mobile app installation data, you must have the role of an administrator or developer for the app.

A source can be a

custom audience

are not created with your pixel data, your mobile app data, or fans of your page.

Consider using a pool of 1,000 to 50,000 of your best customers based on term value, transaction value, total order size, or engagement.
Need more help setting up Facebook ads for your business? Baas & Baas is happy to help you developing the right strategy. We advise, analyze and optimize advertising campaigns so that the maximum return is obtained from Facebook!
Are you interested in Facebook Marketing or one of our other services? Then take Contact us!
Would you also like to become an online Boss? Sign up for the newsletter!