DO YOU WANT TO BECOME THE
BE IN FACEBOOK ADVERTISING
Customized Facebook campaigns, aimed at your target group. So that you get the best leads for your company. What is your ROAS?
FACEBOOK CAMPAIGNS
SETTING UP AND MONITORS
What is Facebook advertising? Ads are shown to users on Facebook & Instagram. This can be shown in different places such as the stories, news feed, right column or in the audience network. You can advertise very targeted to the target group with Facebook advertising, an ideal tool for advertisers. We can design, set up and maintain the campaigns for your company. For optimal performance, we develop a content plan, together with our copywriters and designers.
Do you want effective Facebook Ads Campaigns?
Facebook Marketing funnel strategy
Intake, strategy, campaign funnel, evaluation.
On the basis of the intake, we make a campaign proposal to optimally start and monitor the Facebook campaign. Baas & Baas is happy to help you develop and launch your strategy. We advise, analyze and optimize advertising campaigns so that the maximum return is obtained from Facebook. We use different scientific models, see-think-do and AIDA. Also known for the following phases in the buying process: awareness (awareness), consideration (consideration) and conversion (conversion).
Strategy
- we show our marketing funnel strategy by means of a content plan.
- you can give feedback on the strategy, your input is welcome. The better we know the target group together, the more effective the campaign.
- it is also important to have a good website with good landing pages.
Evaluation
We provide transparent evaluation by means of a monthly report. We prefer to work in your advertising account and always aim for a good ROAS / ROI.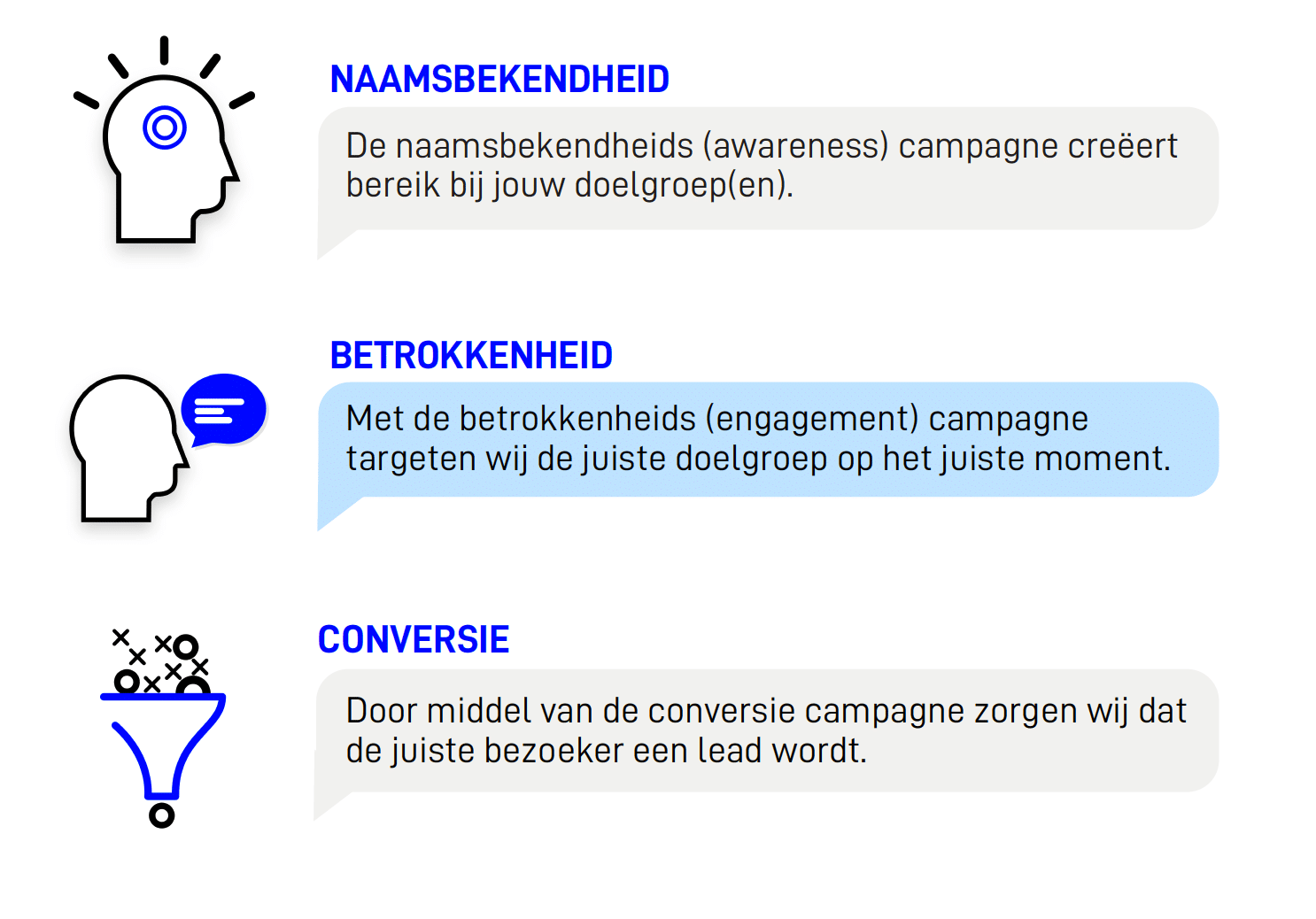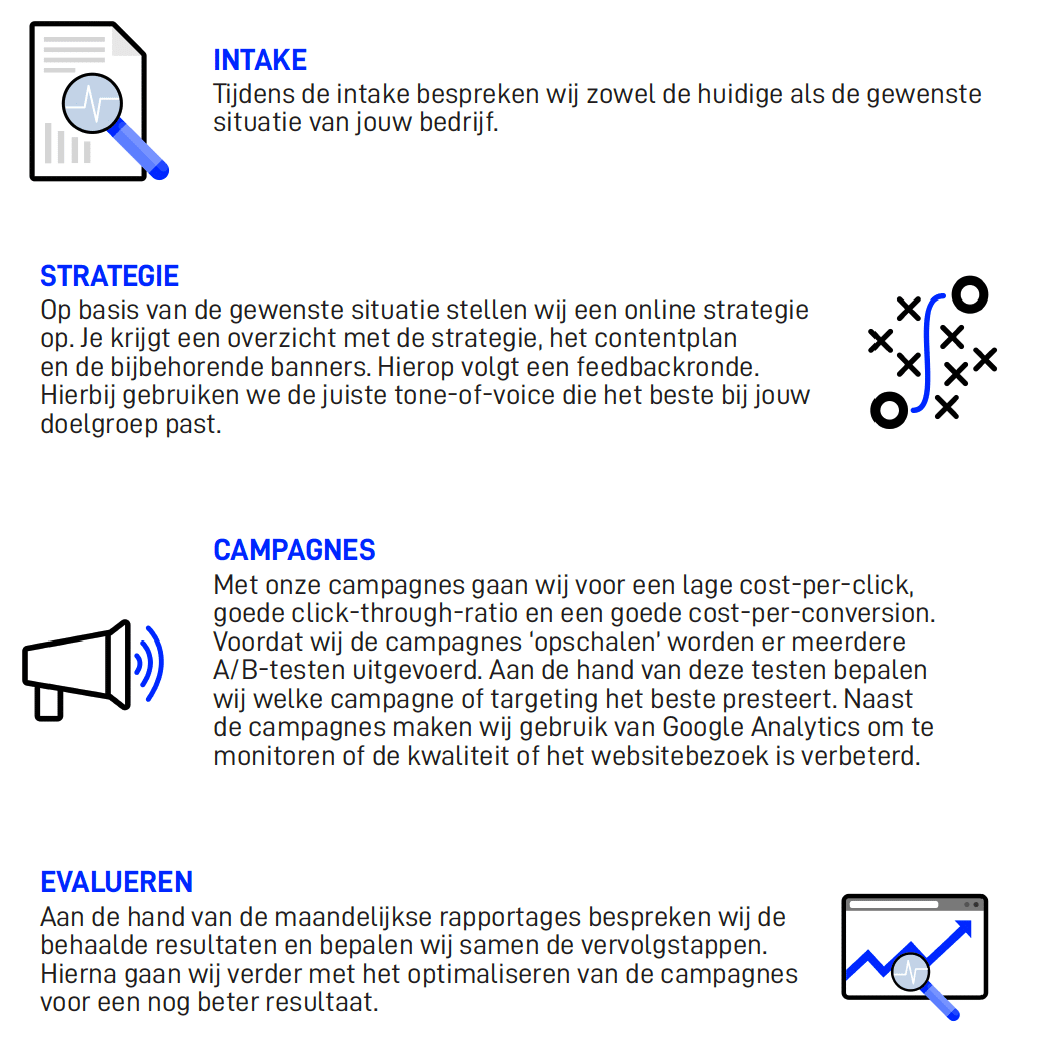 PROBLEMS WITH
FACEBOOK MARKETING
> Facebook Advertising is a valuable promotion channel for many customers
> Continuous monitoring and improvement is the key to a successful campaign
> Refreshing advertisements on time sometimes fails.
> It is not always possible to keep up with new possibilities and tools.
> Setting up and improving campaigns is not the most interesting work to do yourself
> But it is difficult to outsource Facebook Advertising in a high-quality and affordable manner
FREQUENTLY ASKED QUESTIONS FACEBOOK ADVERTISING
What does the training consist of?
Michel Baas
2019-01-31T12: 27: 45 + 01: 00
Interactive workshop with 10 parts
The Facebook advertising training consists of 10 parts. In the first part we explain about Facebook and we will draw up a plan to set up a good campaign. We hereby explain the set-up of a campaign. The third part consists of targeting on your target group. We show you how to use the Facebook pixel, create custom audiences and, for example, use remarketing. We then go deeper into the bidding within Facebook.
A / B testing with ad sets
As soon as we have set this up properly, we can start testing with the campaign and create different ad sets to create an A / B test, for example. The next step is to start optimizing the ads within your ad sets.
Analyze, optimize, improve ...
Finally, we will use a number of advanced techniques such as dynamic ads, optimizing your landing page for Facebook and of course analyzing the figures. What is a good CPC, CPL and CPA on Facebook? We have developed a special advertising sheet for this.
Would you like more information about our Facebook Marketing Workshop? We are happy to provide the FB training at your company on location. Of course it is also possible to have the workshop with us office to follow. Please feel free Contact us for more information.
REVIEWS
Baas & Baas created our website and also does our online marketing. The website looks really great, unbelievable what they manage to put down for the amount we paid. In addition, our advertisements perform well and the contact is very easy and smooth. All in all, super happy !!
Are you looking for a marketing agency? Then you are in the right place! These guys think along with you and keep their appointments. In short, a partner you can rely on.
Very helpful and understanding towards the customer! Baas & Baas responds quickly to all your questions and has a personal attitude towards you, which is very nice.
FREE E-BOOK
FACEBOOK MARKETING
Download the free Facebook Marketing E-book and discover how you can effectively use Facebook Marketing for your company. The E-book discusses, among other things, how you set up Facebook campaigns and how you use pixels. In addition, it is discussed why it is important to apply retargeting via Facebook and why you should never use the 'promote' button.
Boss & Boss | Online Marketing
020 – 2148939
info@baasenbaas.nl
Johan van Hasseltweg 14A
Amsterdam 1022WV
Chamber of Commerce: 70756635
Would you like to know more about our services?
Then contact our final boss Sander without obligation.
Do you want to know how to use Facebook optimally? Request the free Facebook scan now!
Why are we doing this?
Based on the scan, we make a (non-binding) proposal to optimally start and monitor the Facebook campaign. Baas & Baas is happy to help you develop and launch your strategy. We advise, analyze and optimize advertising campaigns so that the maximum return is obtained from Facebook.
Why the FB scan?
- insight into the target group
- advice on budget, strategy & advertising
- 400 entrepreneurs have already preceded you
Enter your details and receive a free Facebook scan of your company. (It is completely without obligation)