Have all the time, energy and money invested in Instagram been worth it? Quite interesting if you ask us. Because do you ever look at the most recent Instagram results? Do you have any idea what is performing well and what is performing poorly? Or who your target audience is? If the answer is no, it is high time you started doing something about it! The answer lies in: Instagram Analytics.
Instagram analytics are important. They give you insight into how the platform works as part of your overall marketing strategy. It will also enable you to improve and possibly grow your business; how do I get more followers and engagement? After all, Instagram is an interesting and large platform on which a lot of profit can be made. So doing analyzes on Instagram is central: how do you do analyzes and which analyzes are there? It's time for more (Instagram) insights! 
Why Instagram Analytics?
As the initial question suggests, it is important to find out if your invested resources have been worthwhile. We want to profit from a platform and not make a loss. It is a shame to spend even more time and energy on an account that creates little or no value. Analyzing the Instagram results is therefore essential. If this is not done - or not done regularly enough - the following problems can arise: 
You post too often or not enough on the platform;

Messages are posted during hours or on days that are not optimal, as your target audience is not active at these times;

The wrong audience is being targeted;

You generate visitors to your website that are unimportant / irrelevant to you;

Missing out on possible partnerships because you overlook mentions;

Missing out on brand engagement in the comments below your post or in stories.
So..
It can be said that it can certainly be interesting to know who views your profile or sees your ads, how your messages perform and how interesting your stories are for the target audience. In short, how valuable your account actually is. 
The information you get from the data of posts / stories / IGTV videos will help you optimize the platform in such a way that you create added value for your company and for your target audience. Analyzing and evaluating is therefore key! And let Instagram Analytics just now be free and easy to understand at a glance. Think of it as your treasure map where the statistics will help you find treasures!
Before you get started with Instagram Analytics
Let's start with the following: where can you analyze the statistics of your account? If you have searched your profile and have not been able to find the statistics, it is probably because you still have a personal account. For Instagram Analytics you have a business account (either a company or creator account) required! 
Create a business account
Most brands / companies already own this. However, for a starter it is good to know to create such an account in order to be able to use the Instragram analysis tool. Don't worry, you can create an account in a few seconds. The nice thing about it is that creating a new account is not necessary. You just need to convert your existing Instagram profile. You do this by pressing the three lines at the top right of your Instagram profile, then navigating to 'settings' and then 'account'. You should find an option 'switch to professional account' at the bottom (the image now says 'switch to personal account' as we have already switched to a professional account). Instagram will then guide you through the various steps to create such an account. Note: link your page to your Facebook page when asked by Instagram. If you do not do this, Instagram will create a new Facebook page for you, which it will then see as your official Facebook page. This is often very difficult to undo so pay attention to this! 
Once all these steps have been taken, a world of extra benefits will also open up for you.
For example, with a business account you not only have access to Instagram Analytics, but it is also possible to add extra contact options to your profile or Instagram ads to use. 
You can find your Instagram analyzes under the heading 'Statistics'. If you want to watch it on your laptop; unfortunately, that is not going to work. Your stats are only available in the Instagram mobile app. You can also only see statistics about the content you have posted since switching to a company account. Switching to a company account as soon as possible is therefore certainly beneficial! What is important to keep in mind: you need at least 100 followers to get real insights from Instagram Analytics. 
Some examples of learning points you can get from Instagram Analytics
You can get many different learnings from the statistics that can be valuable to you as a company. Below we list some learnings that an example company can discover:
Users creating content about your products or services appear to be valuable to your page. You take this learning with you and you try to stimulate this from now on by sharing this content on your own page. This increases involvement.

PS: We can tell you: Instagram's algorithm too! He will reward your account by promoting your messages.

The days and exact time that your target group is active online, for example Tuesday afternoon at 1:00 PM and Thursday evening at 6:00 PM. Handy to post messages!

Certain calls to actions have been found to generate the most clicks. Good to know, so take that with you in your next messages!
Of course these are just a few learnings. The possibilities are endless.
Instagram Analytics Explained: What Does the Data Contain?
The overwhelming statistics of Instagram Analytics give you a lot of information. But what exactly does the information entail? The good news is it seems more difficult than it is. All you need is some explanation. And let's get this from us right now!
When you open Instagram Analytics, you will see three topics: profile overview, content and target audience. Here you will find a summary page with statistics that you can click on, which then lead to several other windows of data. Do you not know what a statistic entails exactly? Each of these windows has an i-icon that provides you with exactly the definition of the statistic displayed on your screen. These insights can be displayed for the past 7 or 30 days (a selection menu can be found at the top of the page). Below we take you through the different statistics that you can find under each tab and what they mean.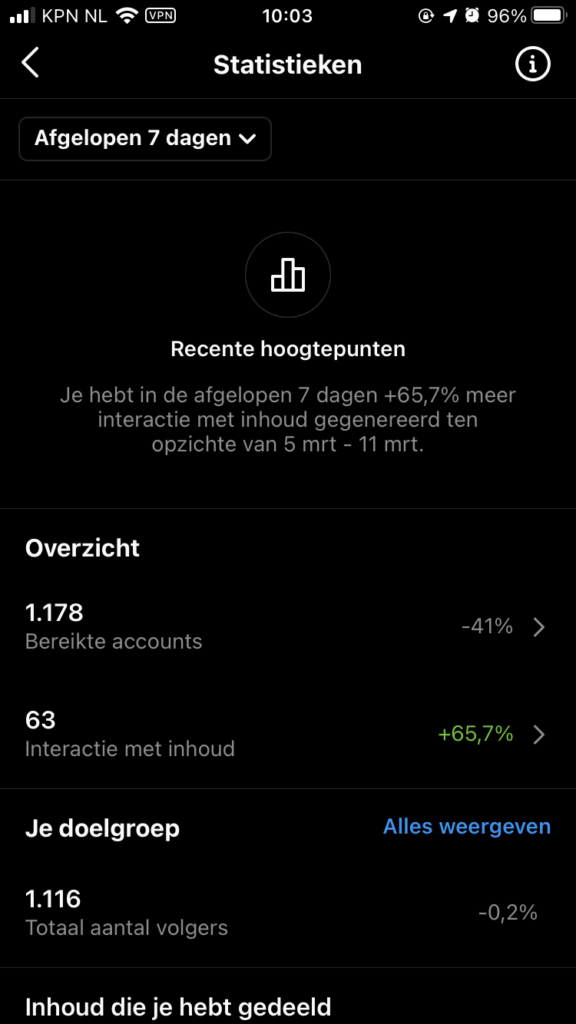 Profile analysis
Instagram shows different insights into your account. Let's delve into the statistics you can access:
Accounts reached: the number of unique accounts that have seen your posts, stories or IGTV videos at least 1 time.
Promoted Range: the number of people who saw your promoted posts or stories at least 1 time.
Views: the number of times your posts, stories or IGTV videos were shown on the screen.
Profile visits: the number of times your profile has been visited.
Listings: the number of times your account has been mentioned by other users.
Tap on website: the number of times the link to your website is clicked.
Click on directions: the number of times the address or the 'directions' button was clicked.
Tapping the call button: the number of times your phone number or the 'call now' button was clicked.
Clicking the email button: the number of times your email address was clicked.
Tapping the test button: the number of times your test button was clicked.
Listings: the number of times your account handle has been mentioned by other users.
Target group analysis
More interesting, in addition to analyzing the general account data, is the data of your target audience. You want your target group to be sufficiently 'engaged' with the content. Who exactly is your target audience? How are they behaving? How involved are they with the company? And do the statistics correspond to your ideal target group that you had in mind all this time? Let's find an answer to these questions! 
Instagram devotes a whole section to analyzes about the target audience you reach. Of these, the main insights are as follows:
Followers (growth): the number of accounts that have started following / unfollowing you in the past period (7 or 30 days).
Popular locations: answers the question where your target group is located, in other words the 5 most common places and countries.
Age category: represents the age distribution. How old is your target audience really? In turn, you can subdivide this fact into men and women.
Sex: shows the division of your target group into men / women.
Most active times: the average times that your followers have used Instagram in the past time (7 or 30 days). This statistic can be translated into follower hours (the average time of the day that the followers are active) and follower days (the days of the week when the followers are most active).
The idea of these statistics is to use the information from them to create more recognizable and timely content. Respond to the trends that affect the majority of your audience. Are it mainly women who consume your content? Then respond to this by means of a differentiation in texts and / or images.
Content analysis
How do certain posts perform independently of each other? Are the different messages appreciated by your target audience? Have a look at the individual post analysis. The following statistics are available with such an analysis:
Message:
Displays the statistics of a specific photo in your feed.
Number of likes
Quantity of comments
Number of times saved
Amount of share actions
Number of followers: new followers generated after posting the post.
Amount of interactions: click on link / button in profile in response to your message.
Range: how many unique followers you have reached through a message.
Number of views: the total number of times your post has been viewed. Also shows where your post has been viewed most often. This can be via the homepage, via hashtags, via the profile, etc. This is gold! You now know where the new followers come from. You can therefore use this information to improve your strategy
Discovery: on Instagram there is a discovery function on which all kinds of content is posted from people / companies that you do not follow yourself. You can 'discover' new accounts here, as it were. Your company account is also eligible for display on this discovery page. If you are discovered in this way by new people, you will be notified. Ideally, you want to reach many people who are not yet following you. With a bit of luck they will find you in the discover function, view your profile and press the '' follow-button ''.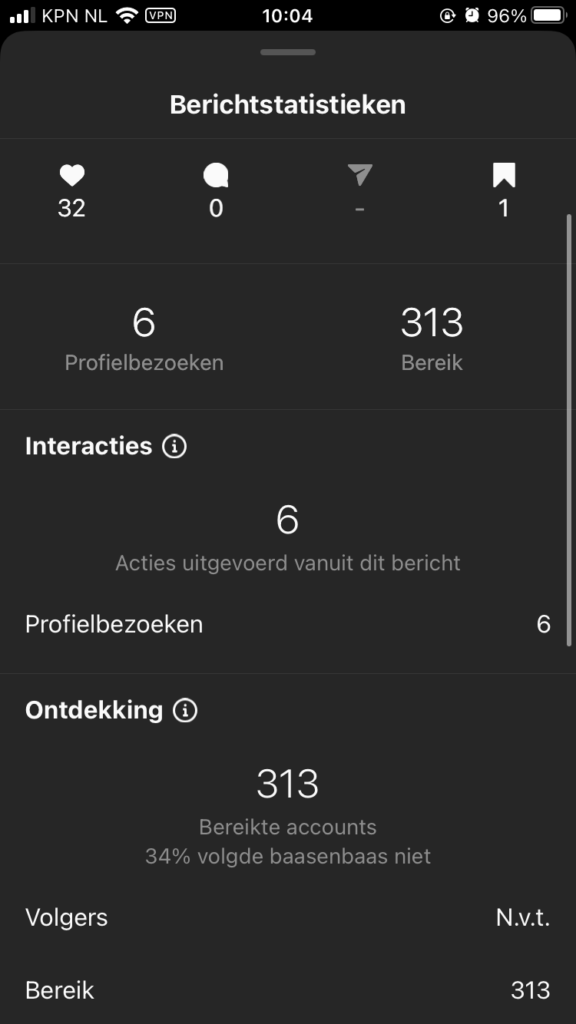 Story:
Not using stories yet? Sin! In general, stories turn out to work best when it comes to creating engagement. It is one more opportunity out of many to bring your brand to people's attention or to increase awareness of your brand among today's audiences.
Back: the number of taps to see the previous photo or video in your story.
Tapping the call button: the number of taps that followed the CTA to call.
Clicking the email button: the number of taps that followed the CTA to email.
Tap directions: the number of taps that followed the CTA to see directions.
Clicking the test button: the number of times your test button was clicked.
Tap on website: the number of times your website was clicked because of your story.
Views: the total number of times your story has been viewed.
Clicking on links: the number of times this link has been opened.
Profile visits: the number of times your profile has been viewed.
Followers: the number of new followers you have obtained.
Number of answers (including text replies and 'quick reply' replies).
Number of share actions
Range: the number of accounts that saw your story.
Further: the number of taps to see the next photo or video in your story.
Leave: the number of taps to exit your Story.
Next story: the number of taps to the next story of the account.
So many possibilities to analyze your story!
Important points to focus on within the story statistics
To put it briefly, you want some statistics to be higher than others. Precisely because these statistics show increased interest in your content or business:
Back

Tap… email, call, directions, links, test button, website

Profile visits

Followers

Answers

Share actions
You want to keep the other statistics low: leave. next story and further. These show namely 'disinterest' On.
Keep in mind that photos in stories generally receive more forwards than videos. Videos hold the viewer's attention for longer, so that the viewer also tends to view the profile again more quickly. This of course remains a matter of testing! Look for patterns as to why certain stories outperform others. Is this due to the type of creative (video or image) or is it the stickers? Or through the interactive part such as a poll, for example? Focus on the things that work well, that will help you achieve the most.
IGTV Videos
Finally, some statistics for the IGTV videos that are also increasingly popular with the current Instagrammers:
Number of likes
Quantity of comments
Number of times saved
Average viewing percentage
Number of video views
Range: how many unique followers you have received via a message.
Number of interactions: click on link / button in profile in response to your video.
Interactions are good!
Instagram shows how often users have interacted with your Instagram page. The interactions are calculated by adding the following statistics:
Tap on call;

Number of responses;

Amount of likes;

Number of profile visits;

Tap on email;

Clicks on website;

Tap directions: 

Click on call button;

Tap on email button;

Click on test button.
The above points fall under the category 'interactions'. Based on the statistics about this, it is good to ask yourself why the statistic reflects what it represents. Why have you gotten more engagement in the last few days than other days? Is this because you recently posted a message? Share an Instagram story? Or have you recently been promoted? Either way, we'll use the data and try again!
Which data on Instagram Analytics is important to you?
Now that it is clear what the data means, it is important to consider for yourself what your goal is with Instagram. You do this before analyzing!
Is your strategy to get more followers on Instagram? Attract more website visitors? Create a community? Or just to increase your brand awareness? A combination of different goals? Regardless of the goal, it should align with the metrics you're analyzing.
Goal: generate leads:
Everyone wants more leads, because that often means more sales. That is of course what you want. How you can stimulate the sale of your products or services can be done in various ways; promotions, offers or promotions for example. However - to find out how successful your strategy was - you need to use Instagram Analytics. The following statistics are important here:
Website Clicks - the content on your page prompted the visitor to view your profile. So apparently you are interesting. The higher the number of clicks, the more engagement!
Clicking the call button / email button - indicate whether people are willing to contact your company. So they are good indicators of conversions. An increase in this can certainly be called favorable.
The follower hours and days - by providing insight into when your audience is online, you can adjust your strategy accordingly. This increases the chance that more people will see your message / promotional materials and thus creates more involvement!
Goal: to create more brand awareness:
It makes sense that you want more people to be familiar with your brand, especially if you are new to a business in a particular market or launching a new product. You can focus on the following statistics to see if this works:
Number of followers - are your followers increasing exponentially? Which is good; your brand fits well with what the target group wants to see. 
Impressions - the more people see your stories or posts, the more people will get to know your business. So it is important that you let this statistic grow.
Range - reach tracks the number of views of your stories, posts, and account. This metric refers to unique accounts, not the same account viewing your Instagram post multiple times.
Purpose: to create a community
An interactive support base is nice, because it shows that you offer them fun and visually engaging content. With the following statistics you can keep an eye on your community:
Involvement - shows how engaged your followers are in everything you post.
Comments - concerns the reactions you get to your created content. Stories often elicit responses earlier than the regular feed. So if a viewer makes the effort to send you a message, you know this is a good sign. Should the reaction be less positive in nature? Still answer. This shows that you see their response and are going to work with it. This also instills more confidence in you as a brand.
Conclusion
What an overload of information! That is why we give you a short summary.
You can only use Instagram Analytics if you have a business Business profile on Instagram. In addition, the statistics can only be viewed on the mobile phone.

Instagram Analytics presents three possible analyzes: a profile analysis, a target audience analysis and a content analysis.

The statistics within Instagram Analytics mainly concern fairly flat information. The intention is that you translate these yourself into valuable insights that you can then apply in your content strategy. What works and what doesn't? And why does this work or not? Above all, keep testing and doing. That way, you keep on sharpening and improving your Instagram marketing efforts. 
In short, Instagram Analytics is and remains a treasure trove of information that is guaranteed to lead you to success. If you have any questions about Instagram Analytics or have discovered something surprising in the statistics yourself? Let us know in the comments or email us! I like that :)
Become an online Boss? Sign up for the newsletter!