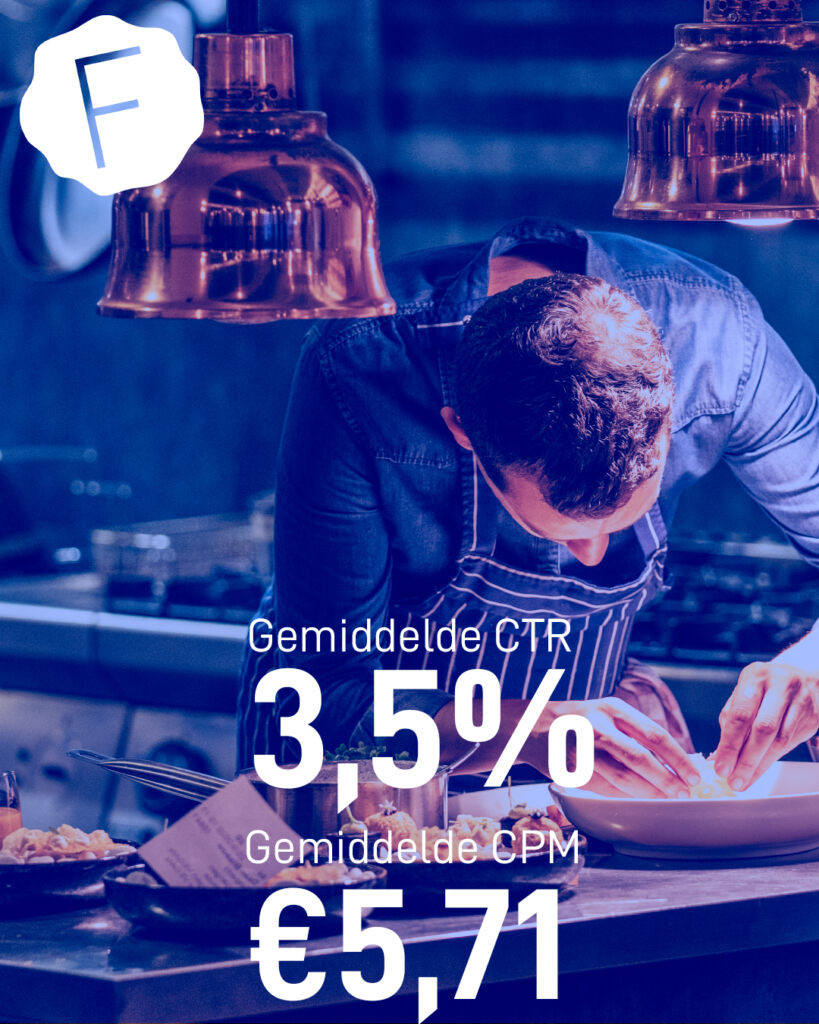 Restaurant Floreyn is a fine dining restaurant right in the center of Amsterdam. The specialties of restaurant Floreyn lie with the Dutch cuisine and the Dutch wines. After all, Dutch cuisine is not only stew, herring and pea soup.
Issue
Restaurant Floreyn had not yet built up much reach on the organic social media channels. Due to the corona crisis, all restaurants had to be closed, which meant that restaurant Floreyn had to come up with a creative solution in order to continue to serve its customers. They introduced the DIT menu (Do It Together menu), where people, together with Floreyn, can put a full menu on the table with the best products from the Dutch soil. 
Solution
With the help of Facebook campaigns we were able to ensure that the DIT menu could be sold better. During these campaigns, we mainly focused on the people who live in and around Amsterdam. In addition, it was also important to target the right interests. Think of fine dining, food & wine and dining. Since the target group has specific interests, it is important to find out the right interests and especially to test.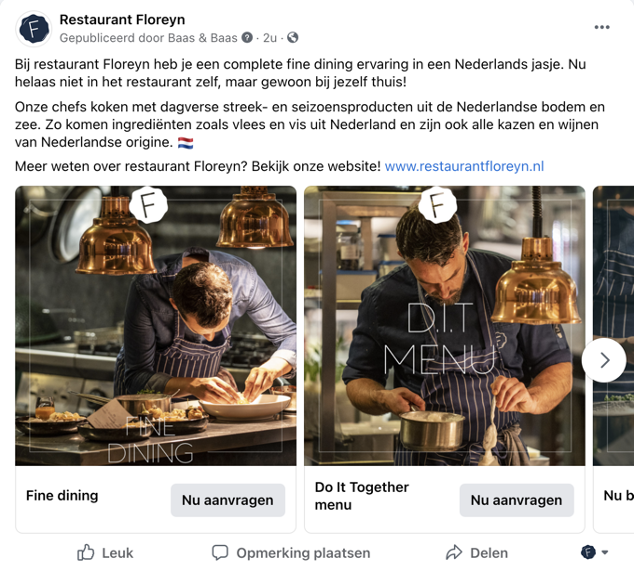 Results
Baas & Baas has been working with restaurant Floreyn for several months. This collaboration has yielded some very good results.
Purchases
With the help of various campaigns we have secured more than 40 purchases from the DIT menu.
Range & CTR
There are more than 130.000 people reached through the various Facebook campaigns. Here is an average CTR (Click Through Rate) of this 3,51% achieved. The average CTR in the Netherlands is around 1.50% (FrankWatching). With a CTR of 3.51%, we are well above average!
CPC & CPM
With an average CPC (Cost per Click) of €0,38 and a CPM (Cost per 1000 views) of €5,71 advertising on Facebook is a very cheap variant. In addition, you can determine the target group very accurately, so perfect for advertising.
Summary of the benefits of Facebook marketing
More visitors to the website

Generate more leads or sales

Reach potential target audience

Inexpensive way to advertise

Results-oriented campaigns

More sales, customers and online success for your company