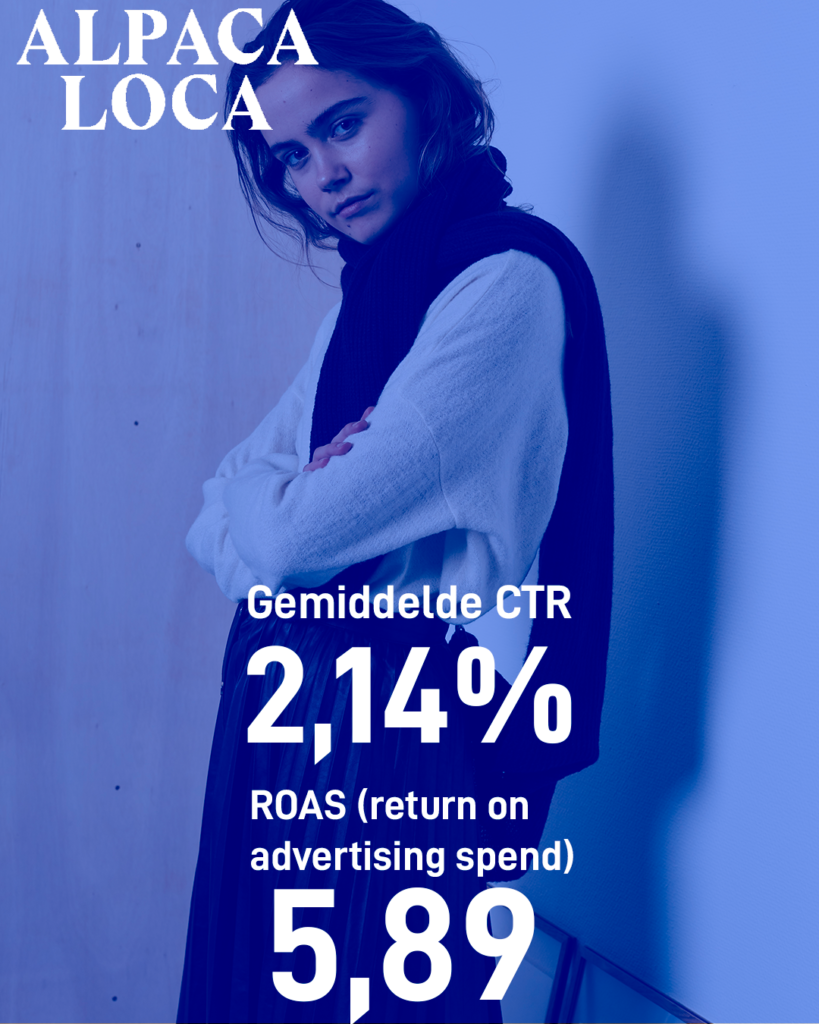 Alpaca Loca is a young and innovative label that specializes in the design and production of quality alpaca wool products. They are mainly known for the luxurious and silky soft plaids and scarves.
Issue
Alpaca Loca's products were sold well, but the turnover can always be increased. The target group was not yet fully aware of the company and the USPs, while the target group is on the various social media channels. We have devised and set up a suitable Facebook strategy for Alpaca Loca.
Solution
With the help of the Facebook campaigns we have ensured that many new purchases have been realized. Within these campaigns, we mainly focused on people with interests such as Alpaca, wool and online shopping. With the help of A / B tests we found out which target groups are performing well and which are less successful. We can reuse these in the future for other campaigns. Several texts and images were used so that the target group could be addressed in different ways.
Results
Baas & Baas has been working with Alpaca Loca for several months, this collaboration has yielded some very good results.
Purchases
With the help of the various Facebook campaigns we have more than 100 purchases completed.
Range & CTR
In total, more than 190,000 people have been reached with the help of these campaigns. Here is an average CTR (Click Through Rate) of this 2,14% achieved. The average CTR in the Netherlands is around 1,50% (FrankWatching). With a CTR of 2,14% we perform well above average!
CPC & CPM
With an average CPC (Cost per Click) of €0,31 and a CPM (Cost per 1000 views) of €6,57 advertising on Facebook is a very cheap form of advertising. In addition, you can reach the target group very accurately.
ROAS
As lateWe must not forget the ROAS, this is the Return On Ad Spend. The average ROAS for Alpaca Loca is 5,89. This means we give you 5 times the budget we havehave earned back on ads!

Summary of the benefits of Facebook marketing
More visitors to the website

Generate more leads or sales

Reach potential target audience

Inexpensive way to advertise

Results-oriented campaigns

More sales, customers and online success for your company